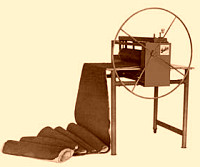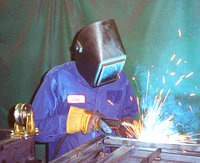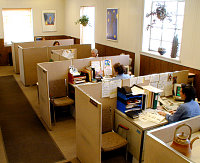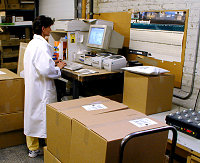 The Professionals Choice
WELCOME TO BAILEY CERAMIC SUPPLY & POTTERY EQUIPMENT ONLINE!
Celebrating 31 Years of
Excellence in the Pottery Field...
Bailey Ceramic Supply was the outgrowth of two professional potters, Jim Bailey and Anne Shattuck Bailey. What has always set the Bailey Pottery Equipment Corporation apart from other companies is the owners deep roots in the field. The core of the business began when Jim Bailey utilized his talents as a potter and designer to engineer equipment potters would appreciate. Anne Shattuck Bailey used her extensive knowledge of tools and materials to develop the supply division.
The Baileys have always been concerned that their customers get the very best products, extensive product information, and excellent prices.
In 1974, Jim Bailey was fresh out of Kansas City Art Institute. When he started his pottery in upstate New York, he designed numerous original machines to run his studio efficiently. In 1975, he released his first piece of professional pottery equipment, the 30" slab roller. Customers raved about it. Within two years, the Bailey Slab Roller had been evaluated by Studio Potter Magazine along with all other brands. Although the other manufacturers of slab rollers had been in field for many years prior, the Bailey was rated the best by a team of professional potters. Thus began the reputation for Bailey innovation. After 25 years, no other manufacturer has developed so many styles of pottery equipment. In every line of equipment that Bailey produces, you will always find unique functional features that teachers and professional potters truly appreciate. Bailey products are built to perform.
In 1984, Anne Shattuck Bailey joined the company to develop the Ceramic Supply Division. Anne incorporated her extensive knowledge and talents from her studio pottery background. Although born in the US, she studied at Harrow School of Art which was headed by Mick Casson in England. After graduating, she returned to the US and developed acclaim for her salt glazed porcelain. Her work has been published in books, shown in numerous museums, galleries, and in the White House. Her expertise in glaze technology and love of clay materials is the backbone of Bailey Ceramic Supply. Today she remains actively involved with day to day operations while resuming her work in clay.
At Bailey, we stand behind every product we sell. Call our wonderful and professional sales staff for all your pottery needs. We thank you for your patronage and look forward to hearing from you.
You will find a variety of new Bailey products in this online catalog. Please keep in mind that there are numerous Bailey products that can only be purchased directly from Bailey. The only products available through other dealerships are our slab rollers, extruders and ware racks. Our other equipment may be bought from Bailey directly at the very best price to you.
Our Ceramic Supply Division is an extension of the Bailey ethic for superior performance. We care greatly for your personal satisfaction in every product purchased. You can depend on the Bailey staff to give you straightforward expert advice. We have 5 experienced potters on staff to assist you with your purchases. You have the Bailey assurance that every product offered has been scrutinized by our technical staff. And our prices are the lowest anywhere! We will save you a lot of money, guaranteed.
At Bailey, we stand behind every product we sell. Call our wonderful and professional sales staff toll-free at 1-800-431-6067 or Contact Us for all your pottery needs. We thank you for your patronage and look forward to hearing from you.
Download the Bailey Beginnings Story
Three Successful Ulster County Businesses: Makers of All Types Welcome Here | Ulster County
Central Rebirth, ARTMIDTOWN, MAD's Anne Bailey Talks About Midtown's Artistic Surge
It Takes an Artist to Know an Artist: Bailey Ceramic Supplies | Ulster County
Bailey Pottery named Ulster County Small Business of the Year | Daily Freeman News Article
Mondays with the Mayor - Radio Kingston, | Radio Kingston | Radio Kingston


Customer Satisfaction is Always Guaranteed!