Studio Deluxe and PRO Front Loaders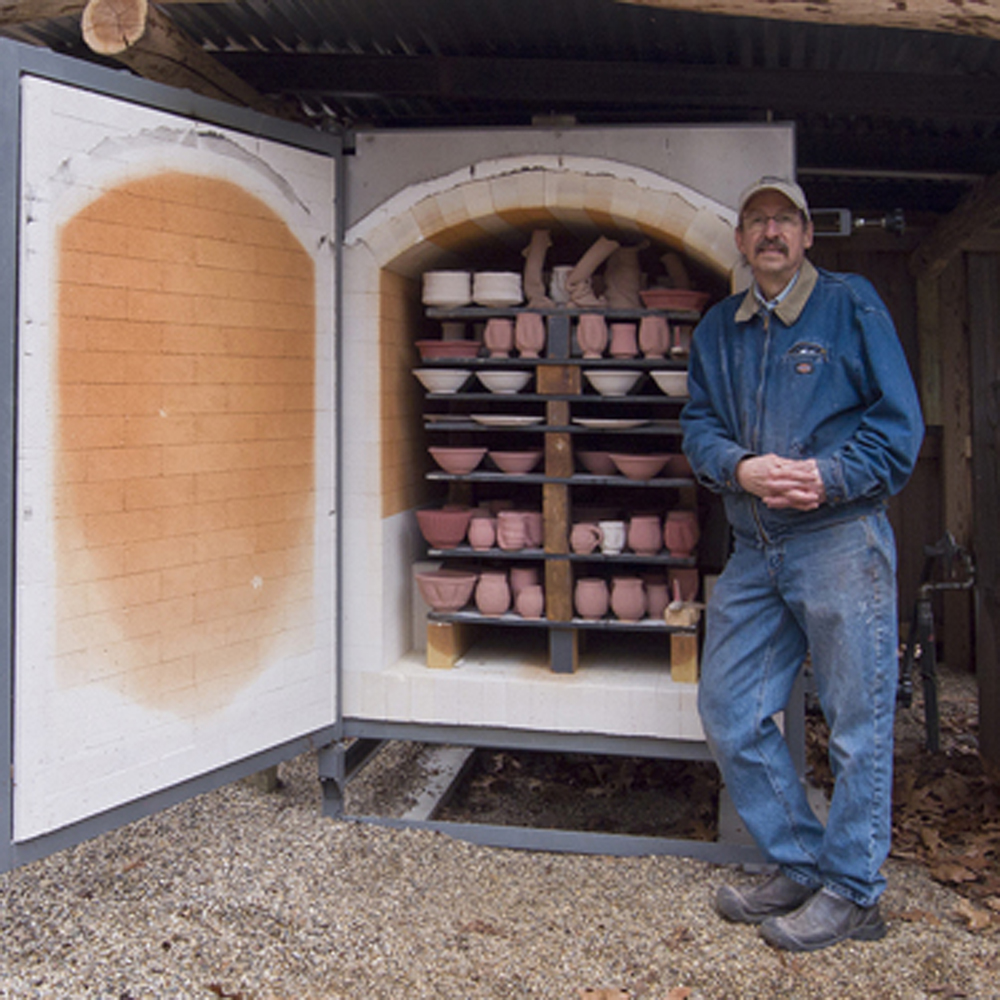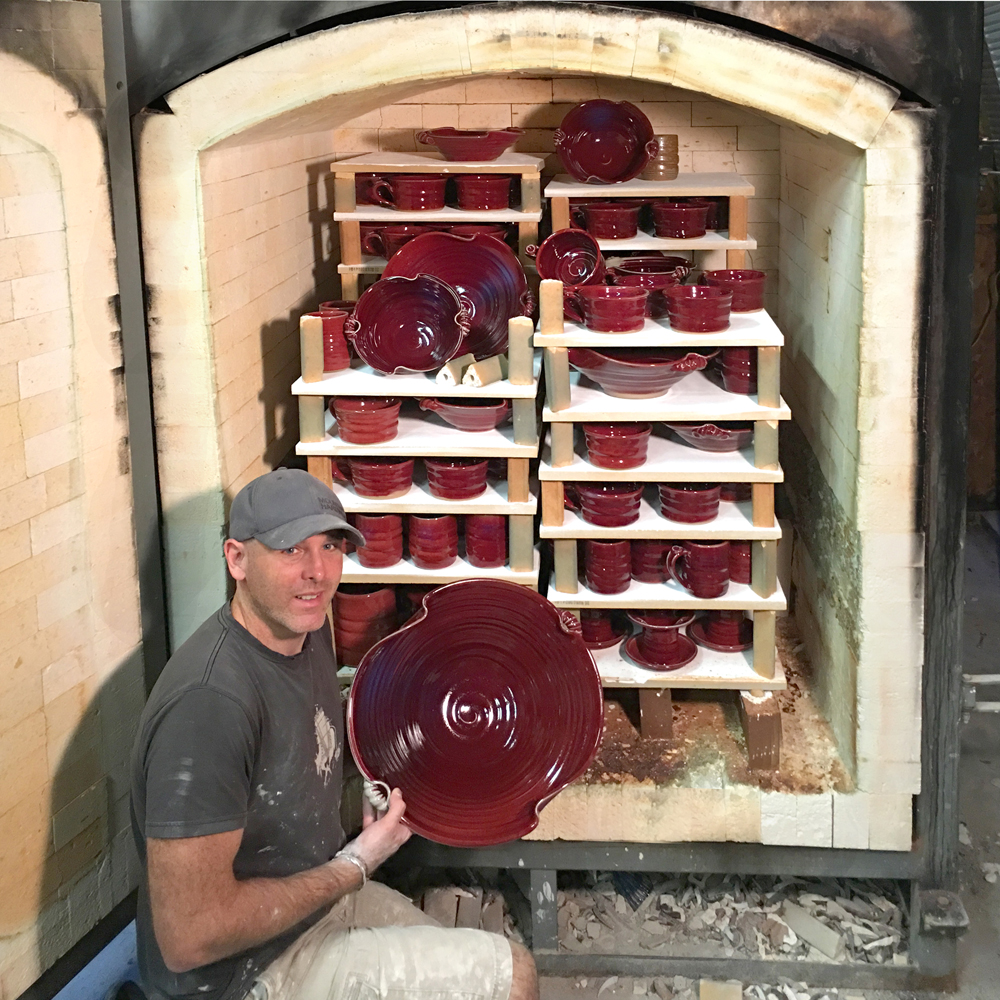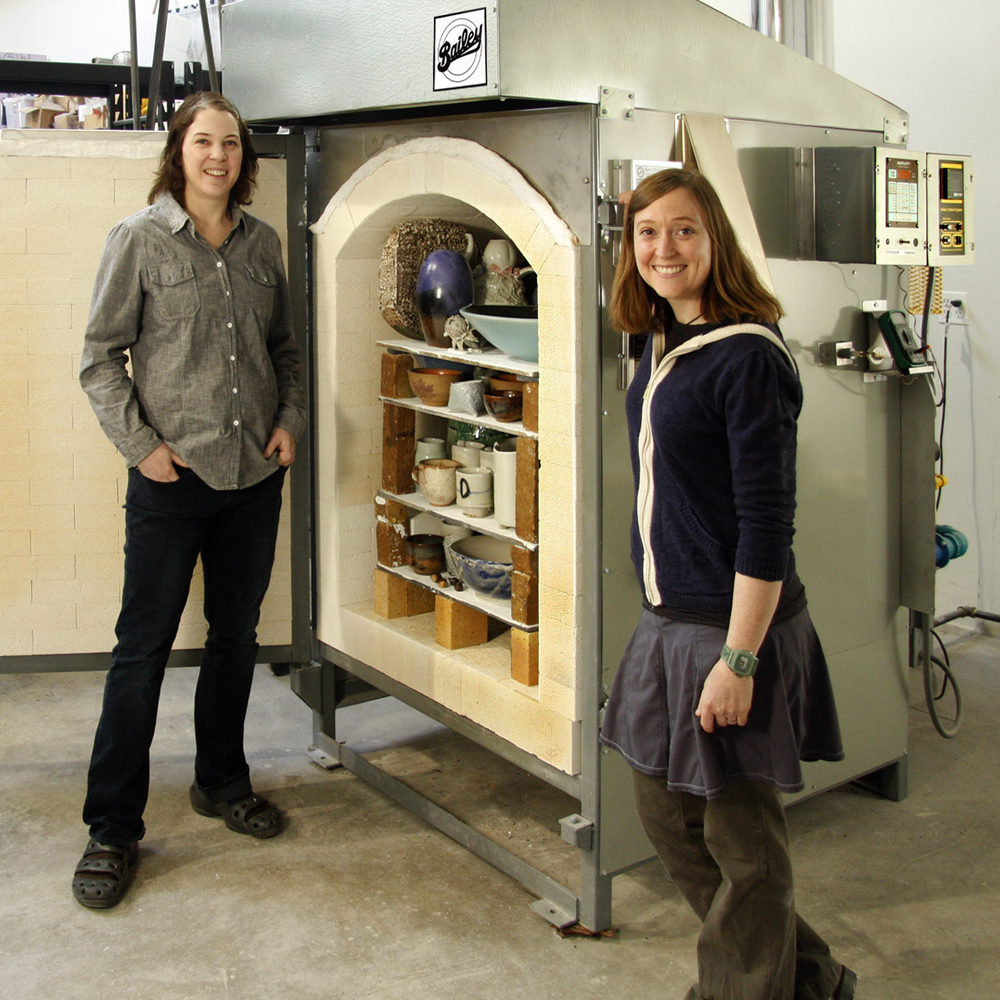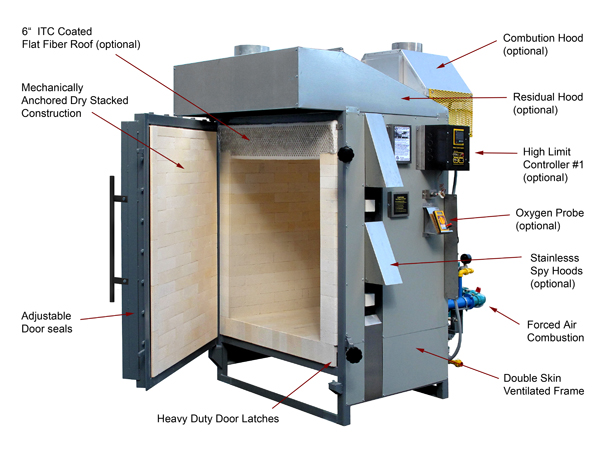 Bailey Innovative Design
Bailey Studio Deluxe and PRO gas kilns are very similar in their innovative construction features.  It's just a matter of scale.
Bailey Kilns are massive, built from heavy tubular and structural steel. Take a closer look and you are immediately impressed by a multitude of outstanding innovative features.
What is common to all Bailey kilns is high energy efficiency.  Our forced draft burner system and efficient circulation patterns insure that you will have very low firing costs, even when compared to expensive high-velocity burner systems.
---
Bailey Gas Kilns are the by-product of logic and innovative thinking.  
Our unique down-draft design represents years of careful research. Every aspect of fuel efficiency, firing consistency and durability has been incorporated into each kiln. We can say quite confidently that there is no other kiln design that can provide such unparalleled performance.
Uniform Heat Distribution
The Bailey down-draft gives a unique 360 degree heat flow pattern. This flow pattern maximizes the absorption of the heat energy and dramatically reduces firing costs. You get uniform heat top to bottom, front to back, and side to side. Unlike venturi style downdraft kilns with burners coming through the floor, our forced air downdraft kilns offer ingenious internal adjustments to fine tune the path of the heat flow. By adjusting the placement and size of the target brick, we can optimize firing results for traditional pottery forms or sculpture. Just watch those cone packs drop evenly!
Uniform Atmospheres
The 360 degree heat travel also gives excellent control of the atmosphere. Whether you fire oxidation or reduction, atmosphere control is extremely simple. We take the mystery out of firing and make it easy to get perfectly consistent firing results. You can look forward to beautiful glazes in every part of your kiln.
---
Studio Deluxe and PRO Series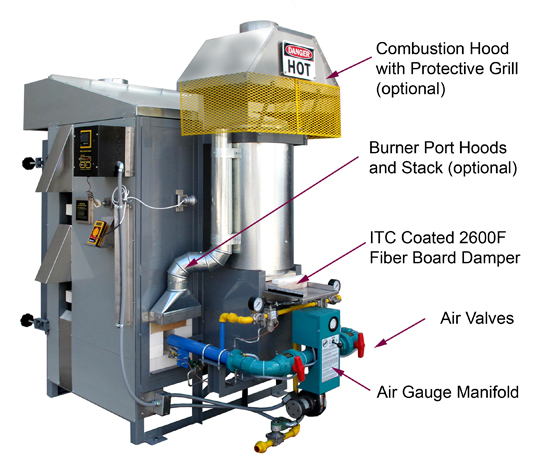 Studio Deluxe front loading kilns range in sizes from 8 to 31 cubic feet of stacking space. The Production front loading kilns range from 28 to 40 cubic feet of stacking space. Both Deluxe and Production kilns utilize the same Double Skin Ventilated Frame construction with stainless chimneys and vary only in their respective insulation profiles.
The Deluxe models have 4½" of insulating firebrick in the walls, floor and arch. This insulating profile is ideal for the small to medium size range of kiln because it offers an economical firing, and a cooling cycle that allows a reasonable turn around time. There would be no benefit to add insulation to this size range for typical stoneware firings.
The Production models have 6" of insulating firebrick in the walls and 6 ¾" in the arch. This insulating profile is ideal for medium to large kilns. The increase in insulation thickness is more in ratio to the thermal mass that is being fired. This is a more practical kiln for firing sculpture where the operator intends to fire longer schedules than the typical stoneware firings.
---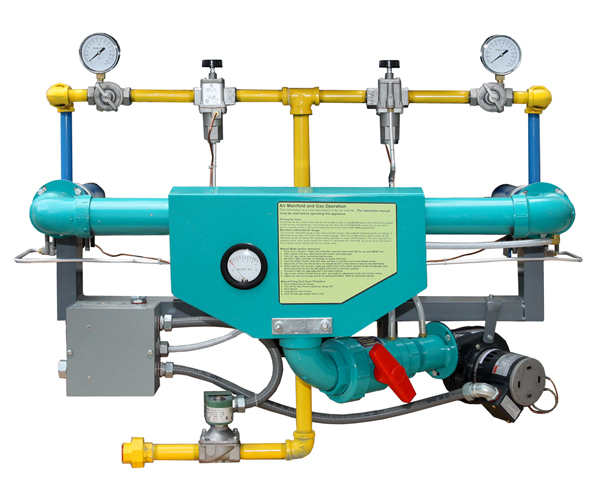 FORCED AIR COMBUSTION SYSTEM WITH AIR MANIFOLD
The air gauge manifold has continued to be improved and simplified. On most of our models, you only need one blower and one main control valve (red) to provide precise control of air flow to both main burners simultaneously.

The air gauge (with needle indicator) reads out the air pressure. Instead of approximations, it is possible to make accurate correlations between gas pressure and air pressure, thus creating a base line for precision firing results.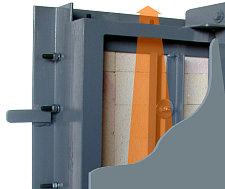 DOUBLE-VENTILATED FRAME
Typically, gas kilns get extremely hot on the exterior surfaces. With the increasing risk of litigation, insurance companies are becoming more stringent regarding safety regulations. To reduce the risk of burns, Bailey Corporation developed the Double Ventilated Frame. With the Double-Skin, an air space is provided between the hot refractory bricks and the exterior sheet metal. Air can circulate through this air space, providing an exterior skin temperature (over the vast majority of the kiln) that can be touched without causing harm.
THE MOST VERSATILE WAY OF BUILDING AN INSULATING BRICK KILN
Typical mortared wall construction reduces the utility life of a kiln. Once a kiln is mortared as a continuous brick structure, large cracks will result from the expansion and contraction from each firing. There is no way to effectively repair the structure in this type of brick construction.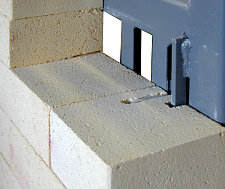 MECHANICALLY ANCHORED DRY STACK SYSTEM
Instead of mortaring the brick walls, Bailey Deluxe and Production kilns are anchored together mechanically. In this way, each brick has an expansion joint which prevents cracking and greatly extends the life of the overall lining. Another benefit of this design is the ease of repair. If damage occurs, the anchors can be easily removed, the bricks replaced, and the kiln restored to new condition. By comparison, mortared kiln walls cannot be locally repaired.Stainless "L" anchors (inset into top surface of brick) secure dry stacked brick into steel framework.

HEAVY DUTY DOOR LATCHES
Bailey kilns have heavy duty door latches with large comfortable knobs. They pivot out of the way to prevent collision with the refractory door seals

DAMPER CONTROLS
The Damper Control is constructed of insulated board which is coated in a dense ITC coating. A support shelf protects the damper board and provides a surface to mark draft increments. Damper shelf positioning will vary.

BURNER PORT COVERS
All of Bailey kilns include convenient built in burner port covers that will seal off the kiln chamber at the end of the firing. At the completion of a firing, the refractory covers track over the port area to prevent re-oxidation.

SPY PORTS LINED WITH DENSE REFRACTORY
The Bailey DLX and PRO spy ports are designed for long life. Over time, spy ports can get worn away and enlarge from all the abrasion created from taking the spy plugs in and out over the years. With our hard refractory lined ports, this won't happen. You can depend on keeping the heat and fumes from leaking through.
---
Optional Venting for Deluxe and Pro Series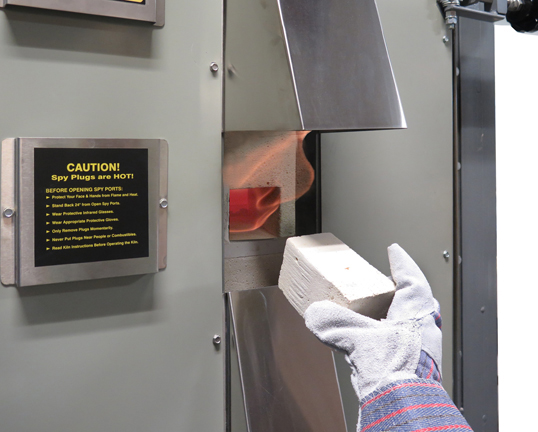 SPY PORT FUME COLLECTION (OPTIONAL)
This innovation by Bailey provides the perfect solution for capturing reduction fumes that escape from the kiln and can pollute your indoor kiln room. Each hood draws the fumes back into the kiln so that it can be channeled into the Residual hood and away. Note: the flame you see is from a carbon trap firing. Normal reduction firing does not require an orange flame projecting.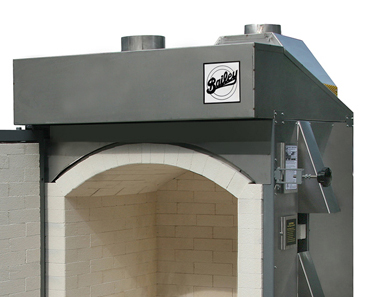 RESIDUAL FUME COLLECTION (OPTIONAL)
The Residual SS hood provides the ultimate in efficient fume removal. Known in the industry as the "source-capture" technique, the residual fumes are removed from the environment before students or employees are exposed to noxious fumes.This hood extends well over the door seal area. Draft induction must be supplied to complete the system.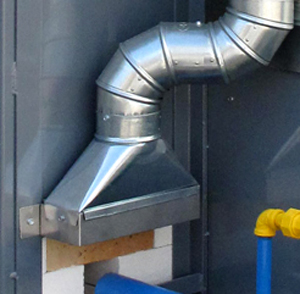 BURNER PORT FUME HOODS (OPTIONAL)
Working in conjunction with an adapted Combustion Hood, Bailey has innovated this new Burner Port Hood which captures and routes all flame and reduction by-products up into the combustion hood. This is the most effective way to prevent pollution in the kiln room!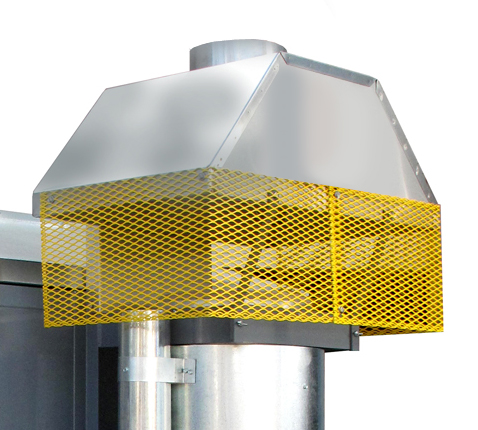 COMBUSTION HOOD (OPTIONAL)
The stainless steel combustion hood collects all the hot combustion gases and mixes them with ambient air from the kiln room. We produce various designs in hoods to meet the particular requirements of the kiln site. We will also engineer all your venting needs from the hood, to the insulated pipe (appropriate for kiln applications), flashing, and the final cap.
---
Optional Atmosphere and Process Controls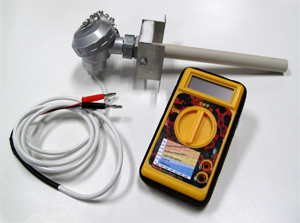 The Oxygen Probe is one of the most valuable pieces of gas kiln instrumentation to come along for the potter. This instrument accurately monitors the atmosphere in the kiln, and gives exact readouts (in digital form) as to the amount of reduction or oxidation present.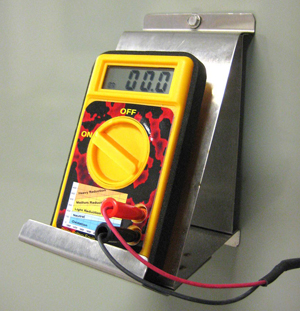 How many times have you been puzzled as to why a firing will not progress, or why the glazes did not turn out properly? With the Bailey Oxy Probe, you eliminate all the guess work.
Click Here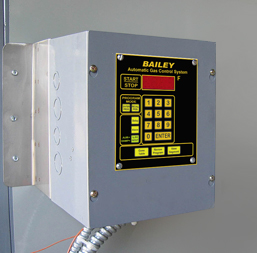 3 DIFFERENT CONTROL OPTIONS
Bailey offers several controller options. The High Limit #1 provides a digital temperature readout and a temperature shut-off function that acts as a back-up to shut down the kiln. We also offer a "ramp/hold controller which can be used to bisque or preheat a glaze firing to body reduction.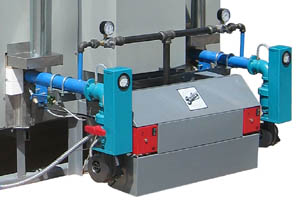 HIGH LIMIT #3 SAFETY FLAME SYSTEMS (OPTIONAL)
This system includes a High Limit Controller, Soak Control Function, Ultra Violet Safety System, Fire