Bailey Commercial Duty Electric Kilns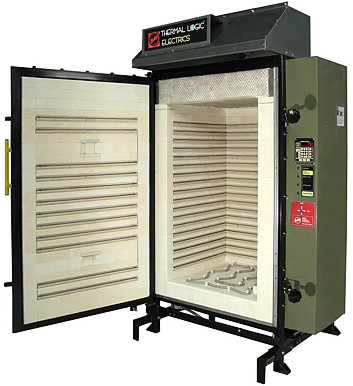 Bailey Thermal-Logic Large Capacity Front Loading Commercial Duty Electric Kiln with Hard Element Holders (info and specs are on a separate webpage)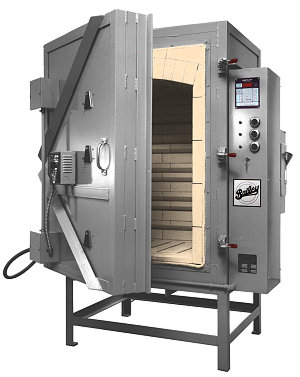 Bailey Large Capacity "Standard" Series Commercial Duty with slotted brick for element retention (info listed below)
Bailey "Commercial Duty" Electric Kilns
Professional Front Loading

and

Shuttle

Electric Kilns
Ideal for Universities, Production, sculpture, and Studio Pottery.
Bailey makes two different series of large capacity "commercial duty" electric kilns. The Bailey Thermal-Logic Electric Kilns and our Bailey "Standard" Series commercial duty electric kilns.
Both the Bailey Thermal-Logic Electric Kilnsand the"Standard Series" commercial duty electric kilns offer large diameter heavy duty elements that are made of thick element wire.  Our commercial duty elements are calculated for the longest life at cone 10 temperatures.  The Bailey Thermal Logic and the Bailey Standard Commercial Duty kilns are available in large capacity front loading, 1-Car Shuttle with Tracks and 2-Car Trackless Shuttle versions. We also build custom electric kilns.
The Bailey Thermal-Logic Electric Kilns are presented on a separate page. The Thermal Logic has many distinct advantages  compared to the "Standard" Commercial-Duty. The Thermal Logic is Certified for the US and Canada, has removable hard element holders, an "easy fix" brick lining, ventilated frame, sustainable design,  a 6" flat roof which will last indefinitely, adjustable door seals, highly efficient radiation into the load, and much more. The Bailey Thermal Logic Electric kilns are built for demanding use and the longest trouble-free life with an "easy load" kiln design and "easy service" access to both the brick and electrical components. Go to our page on the Thermal Logic Electric Kilns for further information.
Bailey has outstanding customer service. Our customers will tell you that our fast response time is unparalleled in the industry.  When you buy direct from Bailey, you get the assurance of the highest quality electric kiln and direct access to the most knowledgable staff.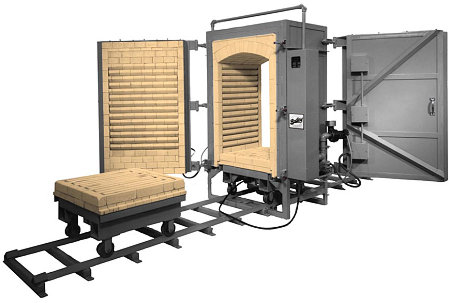 Model 3650 2-Car Shuttle with Tracks (36 Cu Ft)
Bailey "Standard" Commercial Duty Front Loading Electric Kilns
Outstanding performance in Production Applications and University Settings!
Bailey Standard Commercial Duty FL-Electric Kilns set the highest standards in commercial quality at affordable prices. You can trust Bailey Kilns to deliver a rock solid dependable performance. All models are available as standard front-loaders or shuttle kilns (with or without tracks). We build large capacity electric kilns that are perfect for production use, sculpture, and Universities. Prices listed below apply to standard front loading kilns: call for prices on 1-Car and 2-Car Shuttle Kilns.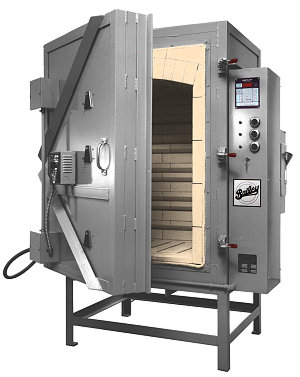 Model 2750 Front Loader (21 Cu Ft) (Kiln Sitter and Switches no longer available)
Insulation
Bailey Electric's 7" wall profile utilizes the optimal balance of 4-1/2" K-24 IFB (Insulating Fire Brick) construction and 2-1/2" mineral block to deliver high temperature durability, minimize heat loss, and increased firing efficiency.The arch brick is backed up with additional castable insulation for added heat retention and stability during shipping. We do not use fiber wall construction in our electric kiln. Fiber walls are prone to mechanical damage, impossible to repair, and do not stand up to element changes.
Elements
All Bailey Commercial Duty FL-Kilns have elements in the floor, all walls and the door for optimal heat distribution. Our massive commercial elements are calculated at the lowest watt-loss density to provide the longest possible utility life. Bailey kilns have plenty of extra power, capable of firing massive loads in a minimum of time. There is no comparison between this type of commercial element and those found in top-loading kiln construction.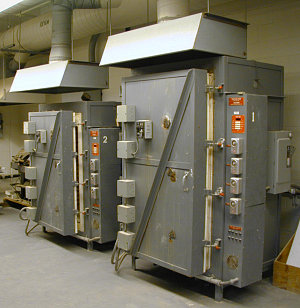 Bailey "Standard Series" Large Capacity Front Loader Electric kilns shown with Optional Hood Vents (Kiln Sitters and Switches no longer available.)
Heat Control
Whether you are firing sculpture or production loads, firing our commercial kilns has never been easier or more efficient. Our fully Programmable Multi-Zone Digital 8 Step Controller will balance the heat top to bottom perfectly. The controller automatically samples the top, middle and bottom of the kiln (or top and bottom on shorter kilns) with separate thermocouples and adjusts the heat so that all zones rise uniformly. This is ideal for sculptural applications where the density of the clay mass being fired is not consistent. With ordinary switches, firing the kiln evenly requires frequent adjustments and a Single Zone Controller cannot maintain even temperatures throughout the chamber. With the Multi-Zone Controller, balance is automatic. Bailey uses Solid State Relays (instead of mechanical relays) for maximum utility life.
Ventilation
All kilns should be vented to the outside! Choose either an Overhead Hood or the Bailey Direct Fume Downdraft Vent System to eliminate noxious fumes from the studio. The Direct Fume System has the additional advantage of taking the fumes directly from the chamber which keeps the atmosphere inside the kiln cleaner for better glaze results. In addition, preventing fume buildup inside the kiln reduces their corrosive effects on elements, electronics and the kiln itself. For more details on the Bailey Direct Fume Vent System, See Item M-405-009 under Electric Kiln Vents / Direct Fume Vents.
Shuttle Kilns
In addition to our standard Front Loading design, our Shuttle electric's provide the convenience and comfort of easy access stacking. Electric shuttle kilns have a cart which pulls out independently of the hinged door which is fixed to the kiln. Shuttle kilns are essential for sculpture or commercial applications. Available with either one or two cars, track or trackless. Call 800-431-6067 for a shuttle price quote.
Safety
A Keyed Power Switch allows the user to 'lock' the kiln power off to prevent unauthorized use: the kiln cannot be turned on unless the key is in place. In addition, a Door Safety Switch prevents the kiln from starting up if the door is not properly closed and shuts down the power if the door is accidentally opened while the kiln is on.
An optional Digital Hi-Limit Back-Up is available as a secondary shut-off. The Watlow LV-Series control allows the user to set a maximum temperature at which the kiln will be shut down if the Controller should fail to do so. This dual shut-off system practically eliminates the possibility of overfiring due to mechanical failure or operator error.
Bailey kilns use only F.M. and U.L. listed components. Control panels are fan cooled for extended relay and wire life.
Construction
Bailey frames are constructed with heavy duty 1/4" thick structural steel. Massive door hinges are designed to offer fine tuning adjustments to obtain optimal heat seals. The exterior of the side and back walls are 16 gauge sheet metal: the door is stainless steel. The frame is finished with a durable heat resistant paint. Our frames are designed to reduce to a "smallest dimension" for passing through difficult doorways. Custom kiln sizes, electrical set-ups and door swings are also available. Call 800-431-6067 to discuss your specific needs.
Bailey "Standard Series" Commercial Duty Front Loading Electric Kiln Specifications
The chart below lists some of our most popular sizes in front loading designs. We regularly alter our kilns to meet the specific needs of our customers. From a 5 cu. ft. front loader to 200 cu. ft. shuttle, we can build to whatever specifications you require. Call 1-800-431-6067 for a quotation.
How to Purchase Front Loading Electric Kilns
Because we feel that purchasing a kiln and choosing your options is an important decision for your business or school and we can offer much insight and advice to the process, we do not allow our kilns to be ordered on-line. We would prefer that you call our staff and be assured the best engineered system for your specific application. Prices shown here are base prices for standard front-loading kilns including the Multi Zone Computer Controller only. There are many options available to customize your purchase. Call our Sales Staff at 800-431-6067 for a complete Quote including freight.
(Note:Scroll table to left or right to see more content available on table ...)
Bailey "Standard Series" Commercial Duty Front Loading Electric Kiln Specifications
Amperage @
Model No.
Catalog No.
Total
Cu.Ft.
Shelf Area
Shelves per Layer
Interior Dim.
W x D x H
Exterior Dim.
W x D x H
240V
1 Ph
240V
3 Ph
208V
1Ph
208V
3Ph
Ship Wt.
Lbs.
Base Price
(Incl.Controller)
FL-2022
C-210-001
5
18" x 18"
(1) per layer
20" x 20" x 22"
46" x 39" x 69"
48
(4)
21
(3)
42
(4)
18
(3)
1600
$10,500.00
FL-2027
C-210-002
6
18" x 18"
(1) per layer
20" x 20" x 27"
46" x 39" x 69"
60
(5)
42
(6)
52
(5)
36
(6)
1800
$12,100.00
FL-2426
C-210-003
8.5
22" x 22"
(2) 11" x 22"
24" x 24" x 26"
50" x 43" x 71"
72
(6)
42
(6)
63
(6)
36
(6)
2000
$12,700.00
FL-2434
C-210-004
11.5
22" x 22"
(2) 11" x 22"
24" x 24" x 34"
50" x 43" x 73"
72
(6)
42
(6)
63
(6)
36
(6)
2300
$13,950.00
FL-2438
C-210-005
12.5
22" x 22"
(2) 11" x 22"
24" x 24" x 38"
50" x 43" x 73"
72
(6)
63
(9)
84
(8)
54
(9)
2200
$15,000.00
FL-2450
C-210-006
16.5
22" x 22"
(2) 11" x 22"
24" x 24" x 50"
50" x 43" x 75"
144
(12)
84
(12)
125
(12)
72
(12)
2400
$18,375.00
FL-2729
C-210-007
12
24" x 24"
(2) 12" x 24"
27" x 27" x 29"
53" x 46" x 73"
72
(6)
42
(6)
63
(6)
45
(6)
2200
$14,775.00
FL-2738
C-210-008
16
24" x 24"
(2) 12" x 24"
27" x 27" x 38"
53" x 46" x 73"
96
(8)
63
(9)
84
(8)
54
(9)
2400
$18,200.00
FL-2750
C-210-009
21
24" x 24"
(2) 12" x 24"
27" x 27" x 50"
53" x 46" x 75"
144
(12)
84
(12)
125
(12)
72
(12
2600
$20,475.00
FL-3639
C-210-010
28.5
34" x 34"
(4) 16" x 18"
36" x 36" x 39"
62" x 55" x 73"
144
(12)
84
(12)
125
(12)
90
(15)
3000
$24,875.00
NOTE: (#) denotes number of elements
Specifications subject to change without notice.
The Furniture Kits for the Bailey Commercial Duty Front-Loading Electric Kilns are composed of the same high quality, Cone 10 rated dry-pressed high alumina kiln shelves and heavy-duty Cone 10 Kiln Posts we have sold with our Electric and Gas Kilns for years. Refer to the Chart below for the contents of each kit as well as prices & ship weights. Shelf Patterns and post layouts are illustrated for each kit.
PLEASE NOTE: Furniture Kits ship separately from the kilns and freight charges are additional.
(Note:Scroll table to left or right to see more content available on table ...)
High Alumina Furniture Kits
Catalog No.
Description
Shelf Pattern
Ship Wt (Lbs)
Price
C-210-FK1
For FL-2022
(4) 1" x 18" x 18" Shelves
(6) ea. 2", 4", 6" & 8" Posts
For FK1 & FK2
(1) 18" x 18" Shelf
3-Posted as shown


175

$440.00

C-210-FK2

For FL-2027
(5) 1" x 18" x 18" Shelves
(6) ea. 2", 4", 6", 8" & 10" Posts

200

$575.00
C-210-FK3
For FL-2426
(8) 3/4" x 11" x 22" Shelves
(6) ea. 2", 3", 4", 5", 6", 8" & 10" Posts


For FK3, FK4 & FK5
(2) 11" x 22" Shelves
3-Posted as shown


200

$593.00
C-210-FK4
For FL-2434 & FL-2438
(10) 3/4" x 11" x 22" Shelves
(6) ea. 2", 3", 4", 5", 6", 8" & 10" Posts

220

$686.00

C-210-FK5

For FL-2450
(12) 3/4" x 11" x 22" Shelves
(6) ea. 2", 3", 4", 5", 6", 8" & 10" Posts